Electrothermal production of ferroalloy from tripoli
Keywords:
tripoli, electric melting, thermodynamics, ferroalloys, ferrosilicon
Abstract
The article presents the research results on the electrothermal production of a ferroalloy from an amorphous sedimentary rock tripoli. The studies were carried out by electric melting in a single-electrode arc furnace using the second-order rotatable experiment planning (Box-Hunter plan). The influence of the amount of coke and steel chips on the degree of extraction of silicon into the alloy and the content of silicon in it is determined. It was found that silicon from tripoli to ferroalloy passes by 49-90.6%, and the silicon content in the alloy is 28-48%. Ferrosilicon grade FS25 (23.0-29% Si) is formed in the presence of 30-33.6% coke and 40.6-45.0% steel chips, grade FS45 (41-46.6% Si) with 32.1-40.9% coke and 26.2-37.0% steel chips. The maximum degree of silicon extraction (90.0-90.3%) in FS45 grade ferrosilicon (42.6-43.5% Si) is observed in a small coke range (36.0-37.3%) and steel chips (33.0-35.2%). Using tripoli instead of quartzite in the charge makes it possible to reduce the duration of the process by 1.2 times.
Downloads
Download data is not yet available.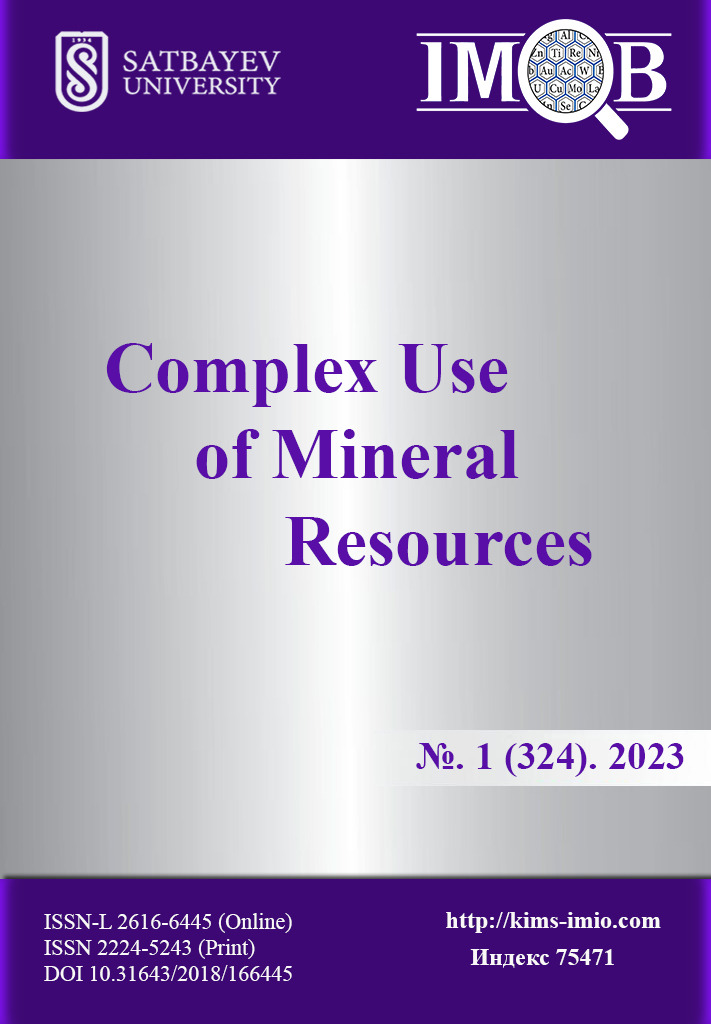 Downloads
How to Cite
Shevko, V., Mirkayev, N., & Aitkulov, D. (2022). Electrothermal production of ferroalloy from tripoli. Kompleksnoe Ispolzovanie Mineralnogo Syra = Complex Use of Mineral Resources, 324(1), 50–56. https://doi.org/10.31643/2023/6445.07