Thermodynamic model of the influence of temperature and carbon on the production of ferroalloy and calcium carbide from the basalt of Dubersay deposit
Keywords:
basalts, thermodynamic modeling, temperature, carbon, ferroalloy, calcium carbide.
Abstract
The article covers the results of researches on thermodynamic modeling of ferroalloy and calcium carbide obtaining from basalts of deposit Dubersay. The software package HSC-5.1, based on the principle of Gibbs energy minimum uses in the study. The influence of temperature (from 500 to 2500 °C) and the amount of carbon (from 40 to 60 % of the basalt mass) in the basalt–Fe–nC system was determined. It has been established that iron silicides are formed at T ≥ 1300 °C, Si at T ≥ 1400 °C, CaSi and Al at T> 1700 °C and CaC2  – at T ≥ 1800 °C. An increase of the amount of carbon from 40 to 60 % allows rise the degree of distribution of Si in the alloy up to 94 %, calcium in CaCl2 – up to 62.3 %, aluminum – to alloy up to 93.9 %. An increase of the amount of carbon allows increase the silicon concentration in alloy up to 55 % (at 1800 °C), aluminum – up to 17 % (at 2000 °C) and calcium carbide capacity – up to 350 dm3/kg. The method of rototable planning of the second order allows find equations of regressions of the influence of temperature and amount of carbon on the equilibrium distribution of silicon, aluminum, and calcium between the ferroalloy and calcium carbide. On the basis of this equations were determined, that within the temperature range 1956-1996 °C from the Dubersay deposit basalt, the ferroalloy with a content of ΣSi and Al 60.8-65.4 % (including 12- 15 % Si) and calcium carbide with a capacity of 250-300 dm3/kg are formed. Wherein degree of recovery into the alloy for silicon is 91-91.4 % and for aluminum is 63-75.1 % and calcium – into CaC2 is 60-60.7 %. The resulting ferroalloy by the content of silicon and aluminum can be attributed to the complex ferroalloy – ferrosilicoaluminium, calcium carbide – to the industrial product of grade from 3 and up to the highest.
Downloads
Download data is not yet available.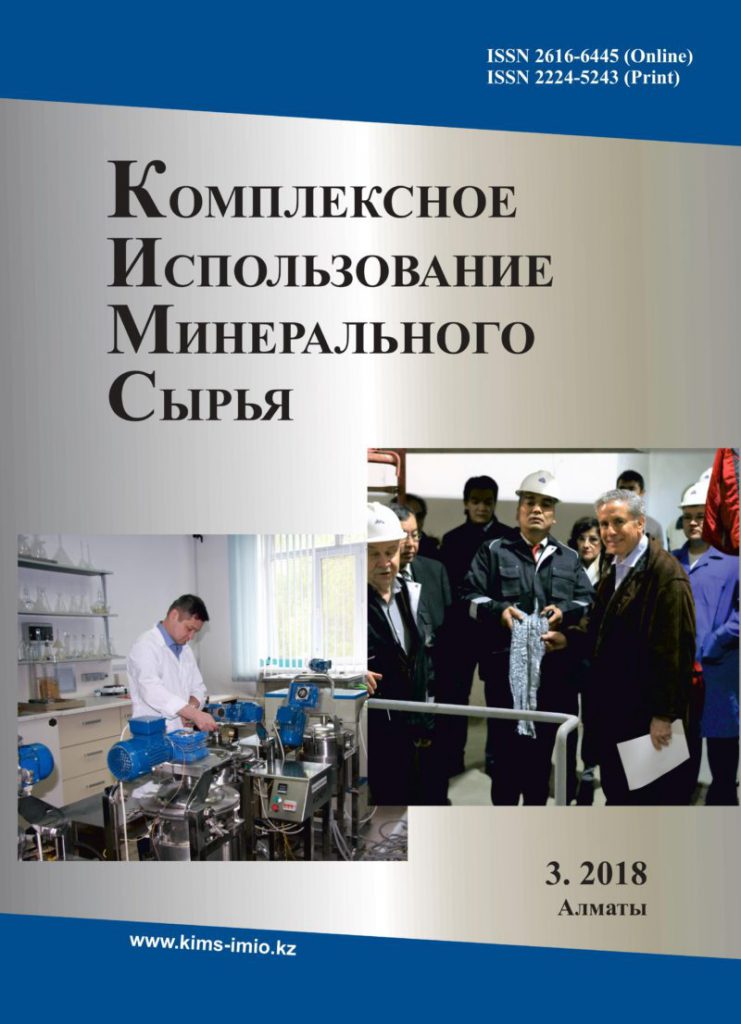 Downloads
How to Cite
Shevko, V., Karataeva, G., Badikova, A., Amanov, D., & Tuleev М. (2018). Thermodynamic model of the influence of temperature and carbon on the production of ferroalloy and calcium carbide from the basalt of Dubersay deposit. Kompleksnoe Ispolzovanie Mineralnogo Syra = Complex Use of Mineral Resources, 306(3), 86–94. https://doi.org/10.31643/2018/6445.21