Deparation of dump slags at the Balkhash copper smelting plant
Keywords:
sulphide copper concentrate, Vanyukov smelting, matte, waste slag, magnetite, heat balance.
Abstract
The purpose of this work is to determine the regularities of reducing the losses of valuable metals with waste slag of copper smelting in the conditions of the Balkhash copper smelter. The change in the raw material base, the introduction of low-quality copper concentrates in the Balkhash copper smelter (BCS) on the VF-1 and VF-2 (Vanyukov furnaces), are accompanied by the production of waste slag containing increased copper content, which requires additional technological operations for their depletion. Smelting in optimal conditions can exclude the organization of separate processing waste slag. Ways to improve the autogenous smelting of copper concentrates at BCS are the following: strict adjustment of the charge composition by basic metals and silicon dioxide, temperature regime, maintaining the heat balance with the possibility of using fuel, optimal operation of the electric mixer. A study of the dependences between the copper content in charge and slag on furnaces VF-1 and VF-2 of BCS allows establishing that the amount of slag increases 1.5-2 times with a decrease of the copper content in the charge 2 times. Reducing the copper content in the feed increases the losses of copper in the slag. The dependences of the copper content in waste slag on content of magnetite and zinc indicate that an increase of the magnetite content from 8 up to 11 % leads to an increase of the copper content in the slag for 0.4-0.5 %. An increase of the zinc content from 4 up to 6 % leads to increase for 0.3-0.5 % of copper content in the slag. Thermal studying of samples of dump slag, produced on furnaces VF-1 and VF-2 showed that the temperature of the slag at the outlet of the electric mixer should be at least 1300 °C. This temperature is difficult to reach by autogenous smelting regime. To solve the problem of complete separation of slag and matte, it is necessary to overheat slag for 70-80 0С, which will realise at electric energy consumption 80 kWt·h/t of slag and allows obtaining waste slag of the optimal composition.
Downloads
Download data is not yet available.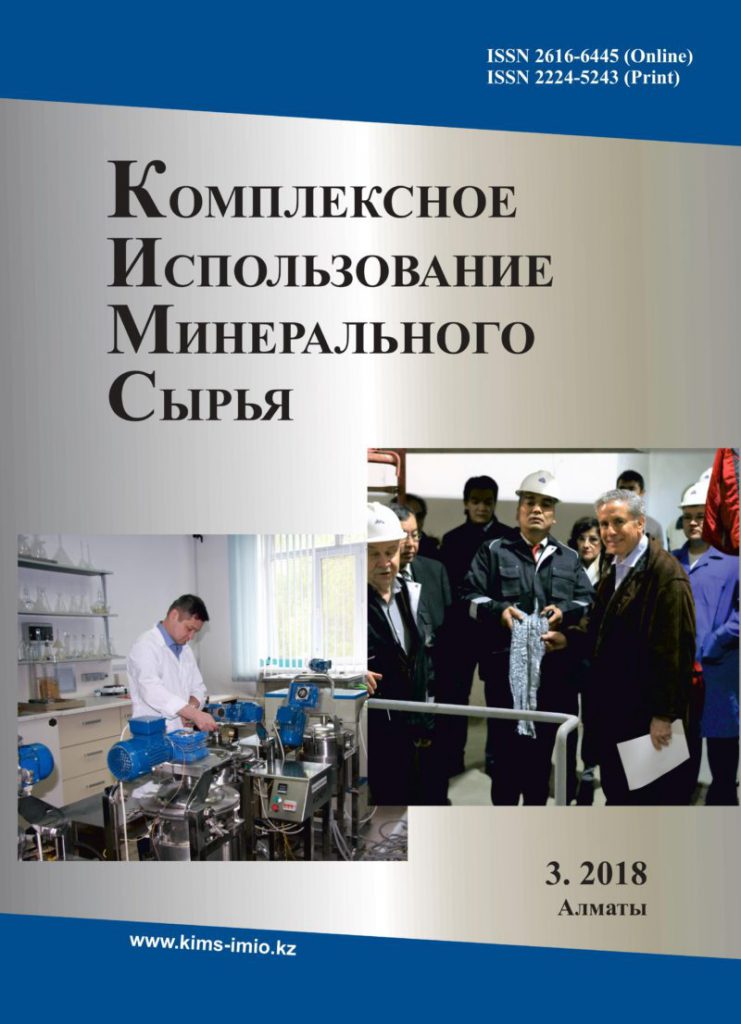 Downloads
How to Cite
Kenzhaliyev, B., Kvyatkovsky, S., Kozhakhmetov, S., Sokolovskaya, L., & Semenova, A. (2018). Deparation of dump slags at the Balkhash copper smelting plant. Kompleksnoe Ispolzovanie Mineralnogo Syra = Complex Use of Mineral Resources, 306(3), 45–53. https://doi.org/10.31643/2018/6445.16