Percolation bacterial leaching of low-grade copper ore
Keywords:
heap leaching, copper, chemolithotrophic bacteria, sulphuric acid leaching, bacterial leaching, bioleaching.
Abstract
The article describes results of research on copper recovery from low-grade copper ore by heap bioleaching method. The objects of investigation are ores of the Benkala deposit. Results of chemical analysis by atomic-emission spectrometric method and chemical phase analysis present ores element composition and identify copper and iron forms existing in the ores. Ores were subjected to bioleaching by chemolithotrophic bacteria, which oxidizes sulfur and iron compounds. Acidithiobacillus ferrooxidans FT-24 and BF, Acidithiobacillus thiooxidans BS, Acidithiobacillus ferrivorans SU-8 and Sulfobacillus thermosulfidooxidans ST-12 strains were used in the research. It was modeling the process of bacterial heap leaching of low-grade ore in percolation columns. Comparison of efficiency of sulfuric acid and bacterial leaching in percolation columns shows advantage of bioleaching. The copper yield was 47 % at using conventional sulfuric acid leaching, while utilizing bacterial leaching increased the copper recovery up to 86 % during 90 days of the experiment. The values of oxidation-reduction potential (ORP) at sulfuric acid and bacterial leaching of copper ore presented are in accordance with yield of copper. The values of ORP at standard sulfuric acid leaching are between 330-360 mV, at bacterial leaching more high and are 480-550 mV due to high content of ferric iron. During the extraction of copper, the effect of the organic reagent LIX 984N in concentrations 50 and 250 mg/L on the activity of microorganisms was studied. As a result, the extraction reagent has a little effect on the growth of microorganisms and the extraction of copper. Without adding the extraction reagent, the total copper recovery was about 83 %, while the addition of the extraction reagent with concentration 250 mg/L decreased it to 81 %. So using bioleaching technology allows deep processing of copper ore due to oxidation of copper sulfide minerals.
Downloads
Download data is not yet available.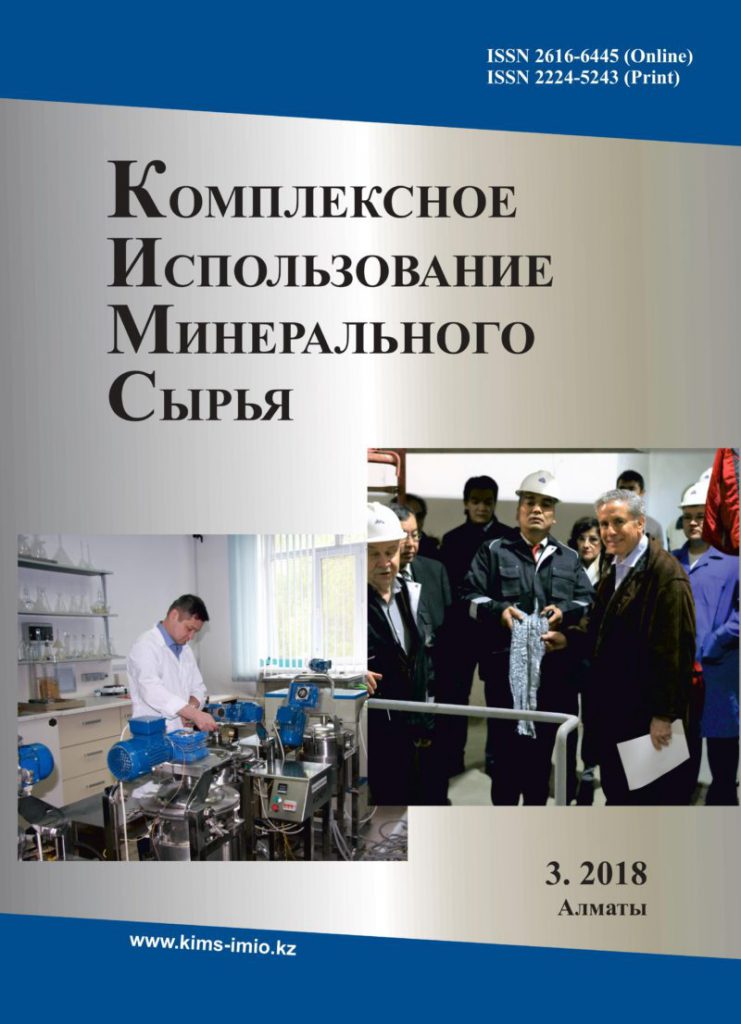 Downloads
How to Cite
Zhappar, N., Ten О., Balpanov, D., Erkasov, R., & Bakibaev А. (2018). Percolation bacterial leaching of low-grade copper ore. Kompleksnoe Ispolzovanie Mineralnogo Syra = Complex Use of Mineral Resources, 306(3), 30–37. https://doi.org/10.31643/2018/6445.14