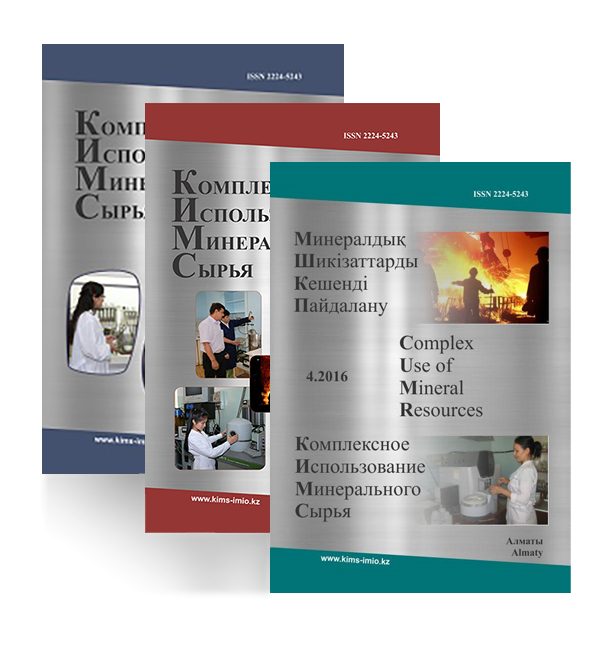 ISSN: 2224-5243 (Print) | ISSN: 2616-6445 (Online)
DOI: 10.31643/2018/166445
Subscription index: 75471
Founder and publisher: JSC "Institute of Metallurgy and Ore Beneficiation", Satbayev University
Chief Editor: Bagdaulet Kenzhaliyev
Scientific editor: El-Sayed Negim, Didik Nurhadiyanto
Managing editor: Gulzhaina Kassymova
Journal "Complex use of mineral resources" (KIMS), published in 1978, covers the current problems of the mining and metallurgical complex and the latest scientific achievements of scientists. KIMS is issued 4 times a year; it has been published as an electronic online publication with open access since 2020.
The journal is included in the list of publications recommended by the Committee for Control in the Sphere of Higher Education and Science of the Ministry of the Republic of Kazakhstan under the section headings: Metallurgy - Protocol No. 52 from 01/28/2021; Earth Sciences, Engineering, and Technology - Protocol No. 76 dated 11/14/2022; re-registered with the Information and Archives Committee of the Ministry of Culture and information of the Republic of Kazakhstan - Certificate No. 16180-zh dated October 18, 2016.
The editorial board of the journal includes leading scientists in the field of geology, mining, metallurgy, ore dressing, metallurgy, and other areas of knowledge close to the journal's scope. Articles are published in English.
Institute of Metallurgy and Ore Benefication is a publisher of the journal; it has become a member of the Publishers International Linking Association of "Crossref" and its journal "Kompleksnoe Ispol'zovanie Mineral'nogo Syr'a" now gets involved with Crossref's community, connects your content with the global network of online research, and takes up additional infrastructure services. Including your content in Crossref means that not only you are able to create Digital Object Identifiers (DOI) you can also contribute a comprehensive set of metadata so that other services can find you in more ways.
Impact factor calculated for Kazakhstan citation base (KazCB) — Check it out!
H-Index of Journal — Check it out!
Impact factor calculated for Clarivate Analytics citation base (Web of Sciences) — Check it out!